MAP 15
This map shows the townlands around Laurelvale, Co. Armagh.
The village of Laurelvale was created in the 1850's when Thomas Sinton started his first linen mill, building the factory and all the houses for himself, the managers and workers. His residence was named 'Laurelvale House' and gave the name to the village. The earliest mention of the Sintons in Ireland is associated with the townland of Unshinagh with later Sintons living in Drumnakelly, Tamnavelton, Mullavilly and Tamnaghmore. In 2004 there are seven Sinton families living in the area shown on this map. Laurelvale in no longer an industrial village, since the mill closed in the 1940's, and while the area still has a mainly agricultural base it has become a quiet residential retreat with more than two hundred privately owned houses built in the last twenty-five years.
For details of some of the headstone inscriptions at Mullavilly Parish Church see Mullavilly.
These maps are intended SOLELY for the non-commercial use of family history research.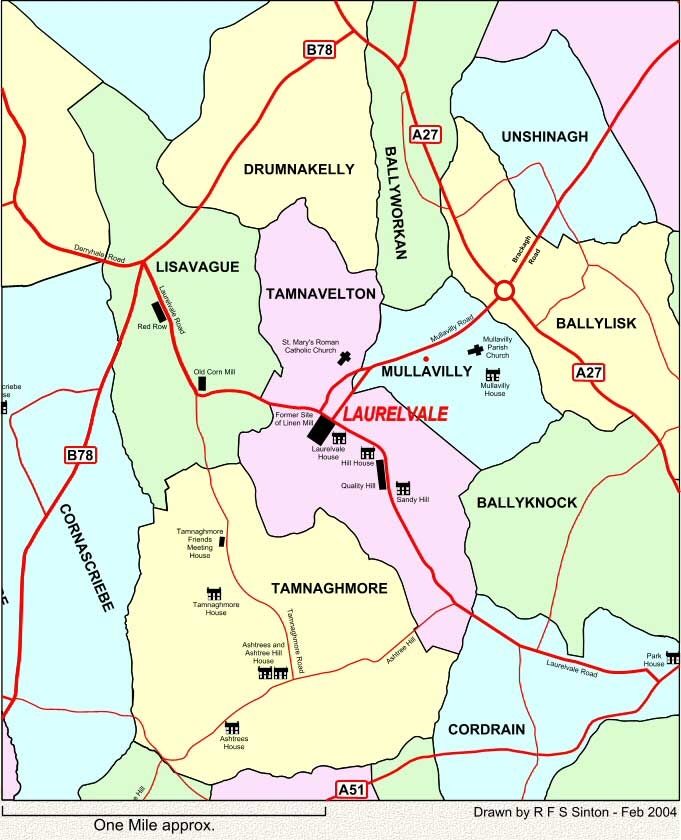 This site is completely

FREE

but it does need money for upkeep.
If you would like to contribute then please click on the Donate button.
Thank you for your support.
Produced using software developed by Bob & Robert Sinton All rights reserved © 2002 - 2023 Sinton Family Trees