Obituary published on Thursday 9 October 1941 in the Colorado Springs Gazette Telegraph reads:
MRS. MARY SHOEMAKER SINTON DIES IN HOSPITAL
Mrs. Mary Shoemaker Sinton, wife of Dr. J. J. Sinton, died early Wednesday at a local hospital following a brief illness. Dr. and Mrs. Sinton returned only Sunday from a trip to Monte Vista for a visit with their daughter, Mrs. Walter S. Peterson, Jr., to whom a son was born October 2. Mrs. Sinton was taken ill Monday. Death resulted from a heart ailment.
Besides Mrs. Peterson, Mrs. Sinton is survived by her husband; another daughter, Miss Mary Jo Sinton, school teacher at Rocky Ford, and a son, Tom Sinton.
Dr. and Mrs. Sinton were married in Philadelphia, where Mr. Sinton attended dental school. Her grandfather was Spencer Shoemaker, member of the famous Pennsylvania family that came from England with William Penn.
Private services will be held Friday at the Blunt mortuary, the Rev. Hurley Begun, pastor of All Souls Unitarian church officiating.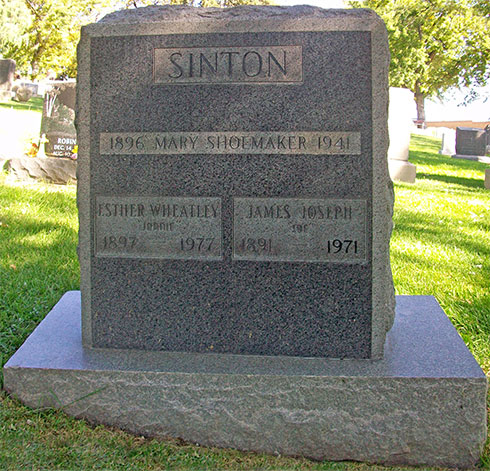 Headstone of Mary Estelle Shoemaker Sinton 1895 - 1941
Evergreen Cemetery, Colorado Springs, El Paso County, Colorado