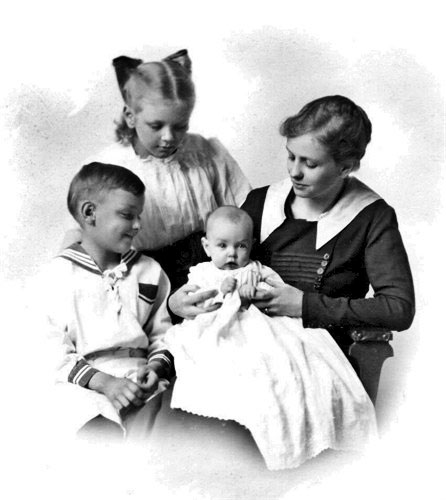 Mum, Frances and Samuel admire the new arrival Joseph.

Photograph courtesy of Joy H. Jones Colorado Springs




Her birth was not recorded but her mother made an affidavit which was valid for her retirement benefits and a passport.

After her husband died, when their youngest child was only 5 weeks old, Bell became a teacher in the public schools in Colorado Springs.

Mrs. Wm. K. Sinton lived with her and was her housekeeper after her own husband's death.

Source : Copies of letters from Mrs. Wm. K. Sinton, Colorado, 1932.

[JHJ]




Article in the Colorado Springs Gazette Telegraph published on Sunday 20 September 1908 reads

The marriage of Miss Bell Sinton, daughter of Dr. and Mrs. William K. Sinton of this city, and Mr. F. Nathaniel Willett of Woodbine, Ia., was quietly celebrated yesterday at noon in the Sinton home, 1220 North Tejon Street. There were no attendants and the only witnesses were near relatives.

The ceremony was performed by the Rev. James B. Gregg, pastor of the First Congregrational church, who officiated at the marriage of the bride's parents, 23 years ago this month. Mr and Mrs. Willett have gone to the mountains for a week or two and will then go to Iowa to make their home.

Mr. and Mrs. Willett have both been students in Cutler Academy and Colorado College and have known each other for some years.


United States Census, 15 April 1910
Name: Bell Willett
Event Place: Boyer, Harrison, Iowa, United States
Gender: Female
Age: 23
Marital Status: Married
Race: White
Race (Original): White
Relationship to Head of Household: Wife
Relationship to Head of Household (Original): Wife
Birth Year (Estimated): 1887
Birthplace: Colorado
Father's Birthplace: New York
Mother's Birthplace: Iowa
District: 67
Sheet Number and Letter: 20B
Household ID: 516
Affiliate Name: The U.S. National Archives and Records Administration (NARA)
Affiliate Publication Number: M1283
GS Film number: 1374418
Digital Folder Number: 004328300
Image Number: 00059
Household Role Gender Age Birthplace
Nathaniel S. Willett Head M 24 Iowa
Bell Willett Wife F 23 Colorado
Frances Willett Daughter F 0 Iowa
[RFSS Aug 2011]

United States Social Security Death Index
Given Name: Bell
Surname: Willett
Birth Date: 20 June 1886
Social Security Number: 326-26-1709
State: Illinois
Last Place of Residence: El Paso, Colorado
Previous Residence Postal Code: 80904
Event Date: February 1982
Age: 96
[RFSS Sep 2005]



Obituary published in the Colorado Springs Gazette Telegraph on Tuesday 23 February 1982 reads

Bell Willett

Services will not be held for Mrs. Bell (Sinton) Willett of 22 Friendship Lane. A private cremation and a private inurnment of ashes is planned at Evergreen Cemetery. Donations may be made to the Silver Key or to the Pioneer Museum.

Mrs. Willett died Sunday after a brief illness.

She was 95.

She was born on June 20, 1886, in Colorado Springs and had been a resident all her life. She was graduated from Colorado Springs School. She received a bachelor's degree from Greeley State College.

Mrs. Willett was a teacher in Colorado Springs schools for many years.

She was preceded in death by a son, Neil Willett in 1964 and by her husband, S.N. Willett in 1919.

Survivors include a daughter, Frances Hewins of Leonard, Md.; a son, Joe Willett of Alamosa; eight grandchildren; and 14 great-grandchildren.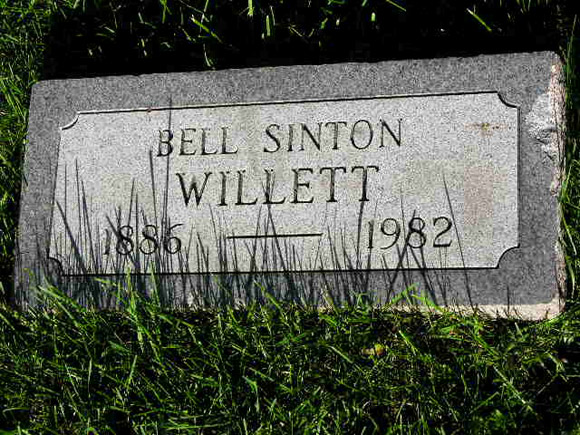 Headstone of Bell Sinton Willett 1886 - 1982
Evergreen Cemetery, Colorado Springs, El Paso County, Colorado
The headstone photograph comes from the Find A Grave website courtesy of
AW
The location is Evergreen Cemetery, Colorado Springs, El Paso County, Colorado, United States of America
Link to the Find A Grave site for
Bell Sinton Willett
To view a map of the Evergreen Cemetery and the location of the grave, click on
MAP
[RFSS May 2009]