Birth Certificate of Ethel Clare Sinton - 12 October 1888

[RFSS May 2017]

Ireland Civil Registration Birth Indexes
Name: Ethel Clare Sinton
Event Date: Oct - Dec 1888
Event Place: Banbridge, Ireland
Registration Quarter and Year: Oct - Dec 1888
Registration District: Banbridge
Volume Number: 1
Page Number: 144
Index Number: 51
[RFSS May 2017]

Quaker Records Ireland - Birth Details
Name: Ethel Claire Sinton
Gender: Daughter
Date of Birth: 12d 10mo 1888
Place of Birth: Drumnavaddy, Co. Down
Parents: David Henry & Sarah Grace Sinton
Parents' Residence: Seapatrick, Co. Down
Description of Father: Mill Manager
Registration Meeting: Lurgan Meeting, Volume 6, Page 388
[RFSS Feb 2017]

Attended Friends School, Lisburn, Co. Antrim, Ireland 1899-1901. [RFSS May 2003]

7 children.


Ardress House, Annaghmore, Co. Armagh, Northern Ireland

© Sept 2006 Sinton Family Trees

Charles and Ethel were the last Ensors to live in Ardress House.

It is now owned by the National Trust.

For more details of the house and gardens see

Ardress House

Ethel was a bridesmaid at her cousin Sarah's wedding in 1908. See

Photo
1911 Census record taken on Sunday, 2 April.
Residents of house number 121 in West Division (Carrickfergus, Co. Antrim)
| | | | | | | |
| --- | --- | --- | --- | --- | --- | --- |
| | Surname | Forename | Age | Sex | Relation to head | Religion |
| 1 | Locke | Silas | 68 | Male | Head of Family | Society of Friends |
| 2 | Locke | Jane Girre | 59 | Female | Wife | Society of Friends |
| 3 | Kelly | Agnes Dorothy | 22 | Female | Visitor | Presbyteerian |
| 4 | Sanderson | Lizzie | 26 | Female | Servant | Presbyterian |
| 5 | Sinton | Clare | 22 | Female | Visitor | Society of Friends |
| 6 | Locke | George | 64 | Male | Brother | Methodist |
| | | | | | | | |
| --- | --- | --- | --- | --- | --- | --- | --- |
| | Birthplace | Occupation | Literacy | Marital Status | Years Married | Children Born | Children Living |
| 1 | Belfast | Pawnbroker | Read and write | Married | 40 | 1 | 1 |
| 2 | Belfast | Pawnbroker | Read and write | Married | 40 | 1 | 1 |
| 3 | Newtownards | Pawnbroker | Read and write | Single | - | - | - |
| 4 | Greenisland | Pawnbroker | Read and write | Single | - | - | - |
| 5 | Markethill | Pawnbroker | Read and write | Single | - | - | - |
| 6 | Portadown | Pawnbroker | Read and write | Single | - | - | - |
[RFSS Jun 2010]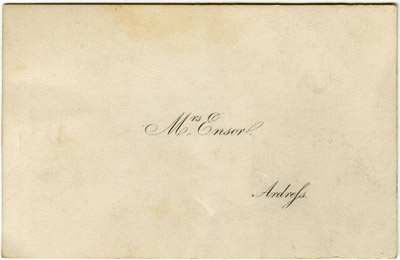 Personal card of Ethel Clare Ensor

Courtesy of Muriel Bebe, Laurelvale, Co. Armagh, Northern Ireland


[RFSS Sep 2010]



Headstone of Ethel Clare Ensor
(née Sinton) 1888 - 1953


Friends Burial Ground, Richhill, Co. Armagh


© 2005 Sinton Family Trees

ETHEL CLARE ENSOR



WIFE OF
CHARLES H. ENSOR
ARDRESS, ANNAGHMORE
DIED MAY 18TH 1953
AGED 65 YEARS
[RFSS MaY 2014]