They shall grow not old, as we that are left grow old:
Age shall not weary them, nor the years condemn.
At the going down of the sun and in the morning
We will remember them


Ireland Births and Baptisms, 1620-1881
Name: Charles Ensor
Gender: Male
Birth Date: 11 Jul 1880
Birthplace: Ardress, Armagh, Ireland
Father's Name: Charles Ensor
Mother's Name: Elizabeth Caroline Howard Ensor
Registration District: Armagh
Volume Number: 1
Page Number: 50
Indexing Project (Batch) Number: C00953-3
System Origin: Ireland-EASy
Source Film Number: 256057
[RFSS Jun 2011]


Transcript from the 'SUPPLEMENT TO THE LONDON GAZETTE, 3 JUNE, 1924, page 4415' reads

Officer of the Order of the British Empire.

Captain Charles Howard Ensor, County Commandant, Ulster Special Constabulary.


The Ulster Special Constabulary (USC) established in October 1920, originally consisted of A, B and C Specials and were volunteers who subsidised the Royal Ulster Constabulary (RUC). At the end of the Irish Republician Army (IRA) campaign in August 1922 the A and C Specials were stood down.

RUC stations, from which the 'Specials' operated, were established in almost every town and village in Northern Ireland with Capt. Ensor based in his local village of Annaghmore. Communications were primitive so it was up to each station to take care of any trouble in its area.

[RFSS Sep 2010]


Ardress House, Annaghmore, Co. Armagh, Northern Ireland

© Sept 2006 R F S Sinton


The house assumed its present appearance after a series of additions between 1790 and 1810, some of which were evidently made by the author George Ensor (1772-1845) soon after he inherited Ardress from his father in 1803. Two bays of windows were added to each end of the front façade in order to impress - an exercise that involved constructing no less than five dummy windows and a partly false front hut which allowed the formation of an elegant garden front with curved sweeps at right angles to the main façade. New wings were added to the north and east sides, the latter containing the dining-room which curiously was linked to the drawing-room by a colonnade along the garden front and was later removed in 1879.

The room was restored in 1961 and now contains some exceptional furniture, most strikingly a heavily carved grotesque Irish Chippendale side-table and a pair of commodes made in 1759 by Pierre Langlois. Here hangs a fine collection of paintings from Stuart Hall near Stewartstown and now on permanent loan to the National Trust. They include a group of 'Four Seasons' by Theobald Michau, 'The Road to Calvary' by Frans Francken the younger and 'Christ on the Road to Emmaus' signed by J. Myts (1645-64).

Ardress was inherited in 1845 by the third George Ensor who died unmarried in 1879. The property then passed to his nephew Charles Ensor, and later to Charles's son Captain Charles H. Ensor who sold Ardress to the National Trust in 1960. In addition to upgrading the house, the Trust have restored the mainly eighteenth-century farmyard where visitors can inspect a milking shed, dairy, boiler house, forge and threshing barn. There is also an interesting display of old farm implements.

On display is the 1799 table made for the speaker of the Irish Parliament upon which King George V signed the Constitution of Northern Ireland on 22nd June 1921.



[RFSS Sep 2006]


Ellis Island, New York - Passenger Record

First Name: Charles
Last Name: Ensor
Ethnicity: British, Irish
Last Place of Residence: Armagh
Date of Arrival: May 15, 1905
Age at Arrival: 27y
Gender: M
Marital Status: S
Ship of Travel: Columbia
Port of Departure: Londonderry
Manifest Line Number: 0006

Profession given as Mill Manager.
Visiting his brother John who was living at 1168 40th Street, Brooklyn, New York.

[RFSS Sep 2010]

Anchor Line S.S. Columbia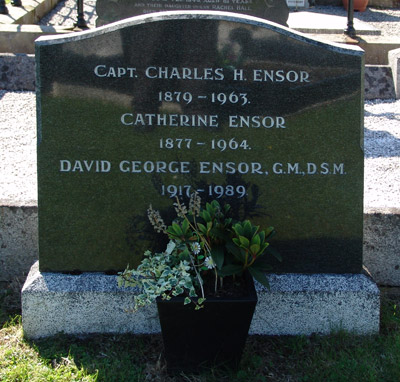 Headstone of Charles Howard Ensor 1880 - 1963

Annaghmore Parish Church, Co. Armagh

© 2010 Sinton Family Trees

[RFSS Sep 2010]