Born
7d 4mo 1894 in Dawsons Grove, Drumnakelly, Co. Armagh, Ireland, United Kingdom
[ s2068 ]
Died
23d 8mo 1979 in Drumnakelly, Co. Armagh, Northern Ireland, United Kingdom
[ s251 s819 ]
Buried
25d 8mo 1979 in Friends Burial Ground, Moyallon, Co. Down, Northern Ireland, United Kingdom
[ s251 s819 ]
NOTE:
Information has been withheld on living persons and those born after 1923 for whom no death record is available.
GENERAL NOTES
Quaker.

Ireland, Civil Registration Birth Indexes
Name: William Valentine Sinton
Registration District: Lurgan
Registration Quarter and Year: Apr - Jun 1894
Volume Number: 1
Page Number: 710
Index Number: 1
[RFSS Oct 2011]

William owned a large farm in the Tullygally townland, which is mid-way between Portadown and Lurgan. The Craigavon Commission obtained the land by compulsorary purchase for the development of the new town in the mid 1960's.

When that bubble burst, mainly because of the oil crisis in the late 70's, some of the former owners were able to buy back their property. In William's case this was not possible because some of his land had been used for the construction of new roads etc. He did get the house but with only a couple of acres of land.
[RFSS Mar 2003]

Living at 157 Mahon Road, Drumnakelly, Portadown, Co. Armagh at the time of his death.
[RFSS Aug 2005]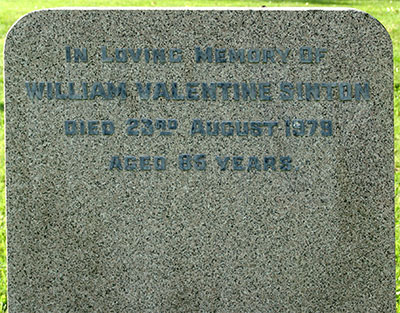 Headstone of William Valentine Sinton 1894 - 1979
Friends Burial Ground, Moyallon, Co. Down
© 2005 Sinton Family Trees
[RFSS JuL 2014]
IN LOVING MEMORY OF
WILLIAM VALENTINE SINTON
DIED 23rd AUGUST 1979
AGED 85 YEARS
| | |
| --- | --- |
| [ s2068 ] | Birth Certificate - Birth of William Valentine Sinton to John and Mary Sinton on 7 April 1894 in Dawsons Grove, Drumnakelly, Co. Armagh, Ireland, United Kingdom - Registration District: Lurgan, Registration Quarter and Year: Apr - Jun 1894, Volume Number: 1, Page Number: 710, Index Number: 1 - BC1894-07-04-WVS |
[ s251 ]
Cemetery Marker - Headstone, Friends Meeting House, Moyallon, Co. Down, Northern Ireland, United Kingdom - H1979-23-08-WVS
View Inscription
[ s819 ]
Church Record - Religious Society of Friends, Lurgan, Co. Armagh - Monthly Meeting Burial Register - QLD-1586
View Source
This site is completely

FREE

but it does need money for upkeep.
If you would like to contribute then please click on the Donate button.
Thank you for your support.
Produced using software developed by Bob & Robert Sinton All rights reserved © 2002 - 2023 Sinton Family Trees