Born
15 August 1905 in Cadder, Glasgow, Lanarkshire, Scotland, United Kingdom
[ s8 ]
Died
9 November 1991 in Tandragee, Co. Armagh, Northern Ireland, United Kingdom
Buried
11 November 1991 in Tandragee Presbyterian Church, Co. Armagh, Northern Ireland, United Kingdom
Married
11 August 1942 in Tandragee Methodist Church, Co. Armagh, Northern Ireland, United Kingdom [ s618 ]
NOTE:
Information has been withheld on living persons and those born after 1921 for whom no death record is available.
GENERAL NOTES
Born 3h 45m PM at 75 Auchinairn Road, Bishopbriggs, Lanarkshire, Scotland.

Alice lived in a cottage, with her first husband Robert McAdam, in the townland of Tamnavelton, near Tandragee.

When he died she inherited the cottage, along with land and other properties, and her second husband Robert Sinton came to live there.

After the death of her sister Sarah in Canada, she raised Emma Wilson, Sarah's daughter.

The cottage was raised to the ground in 2002 and a large residence was built by her grandson Alistair Rafferty, on the hill overlooking the cottage site.
[RFSS Dec 2002]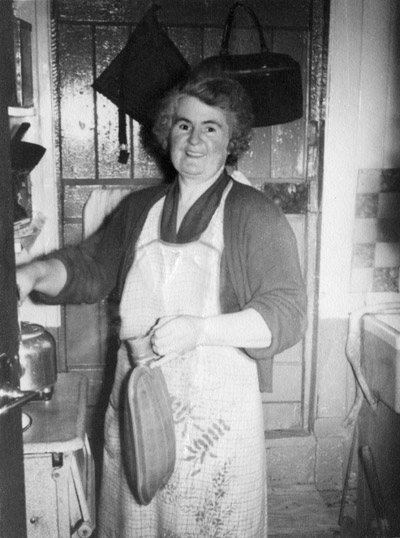 Alice Sinton 1905 - 1991

Photograph courtesy of Emma Stewart

[RFSS Oct 2010]
MARRIAGE NOTES
Married in the Methodist Church, Tandragee, Co. Armagh by Rev. R.H.Gallagher.
Robert's address given as Tamnaghmore, Tandragee.
Alice's address given as Tamnavelton, Tandragee.
Witnesses Wallace K Sinton and his wife Evelyn.

| | |
| --- | --- |
| [ s8 ] | Birth Certificate - Register Book of Births for the Western District of Cader in the County of Lanark this 4th day of September 1905, Ref. No. 116. Alice Sinton, birth 15 August 1905. - BC1905-15-08-AS |
| | |
| --- | --- |
| [ s618 ] | Marriage Certificate - Marriage solemized at the Methodist Church in the town of Tandragee in the Co. Armagh 11th August 1942 - MC1942-11-08-RS-AMcA |
This site is completely

FREE

but it does need money for upkeep.
If you would like to contribute then please click on the Donate button.
Thank you for your support.
Produced using software developed by Bob & Robert Sinton All rights reserved © 2002 - 2021 Sinton Family Trees