Robert Sinton
(Forty Acre Bob)
Born
27 August 1903 in Tamnaghmore (Townland), Tandragee, Co. Armagh, Ireland, United Kingdom
[ s2208 ]
Died
10 August 1983 in Tamnavelton (Townland), Tandragee, Co. Armagh, Northern Ireland, United Kingdom
Buried
12 August 1983 in Tandragee Presbyterian Church, Co. Armagh, Northern Ireland, United Kingdom
Married
11 August 1942 in Tandragee Methodist Church, Co. Armagh, Northern Ireland, United Kingdom [ s618 ]
NOTE:
Information has been withheld on living persons and those born after 1920 for whom no death record is available.
With the death of Robert, this branch of the Sinton family tree comes to an end.
GENERAL NOTES

Birth Certificate of Robert Sinton - 27 August 1903

[RFSS Aug 2019]

Ireland, Civil Registration Birth Indexes
Name: Robert Sinton
Registration District: Banbridge
Registration Quarter and Year: Jul - Sep 1903
Volume Number: 1
Page Number: 157
Index Number: 305
[RFSS Dec 2011]

Farmer. Owned a farm in the townland of Tamnavelton, Co. Armagh, Northern Ireland.

Known as 'Forty Acre Bob' he never in fact owned 40 acres. His land, along with neighbours Bell and McClure totalled 40 acres. He bought the McClure farm when it became available.

His daughter Roberta and her husband James bought the Bell farm when it became available.
On his death, Roberta became the first, and only, person to own the complete 40 acres, part of which is now owned by her son Simon.
[RFSS Dec 2002]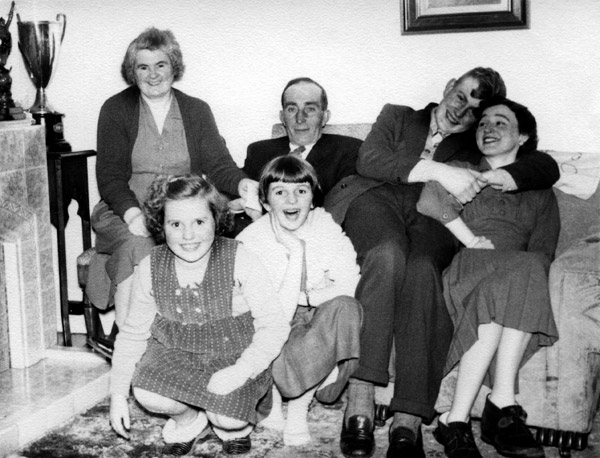 Alice and Robert Sinton in their house in Laurelvale, circa 1955.

Photograph courtesy of Emma Stewart

When the mouse cursor is moved near the face of a person, a small window will open to identify them.

[RFSS Oct 2010]
MARRIAGE NOTES
Married in the Methodist Church, Tandragee, Co. Armagh by Rev. R.H.Gallagher.
Robert's address given as Tamnaghmore, Tandragee.
Alice's address given as Tamnavelton, Tandragee.
Witnesses Wallace K Sinton and his wife Evelyn.

| | |
| --- | --- |
| [ s2208 ] | Birth Certificate - Birth of Robert Sinton to Robert and Annie Sinton on 27 August 1903 in Tamnaghmore (Townland), Tandragee, Co. Armagh, Ireland, United Kingdom - Registration District: Banbridge, Volume Number: 1, Page Number: 157, Index Number: 305 - BC1903-27-08-RS |
| | |
| --- | --- |
| [ s618 ] | Marriage Certificate - Marriage solemized at the Methodist Church in the town of Tandragee in the Co. Armagh 11th August 1942 - MC1942-11-08-RS-AMcA |
This site is completely

FREE

but it does need money for upkeep.
If you would like to contribute then please click on the Donate button.
Thank you for your support.
Produced using software developed by Bob & Robert Sinton All rights reserved © 2002 - 2020 Sinton Family Trees