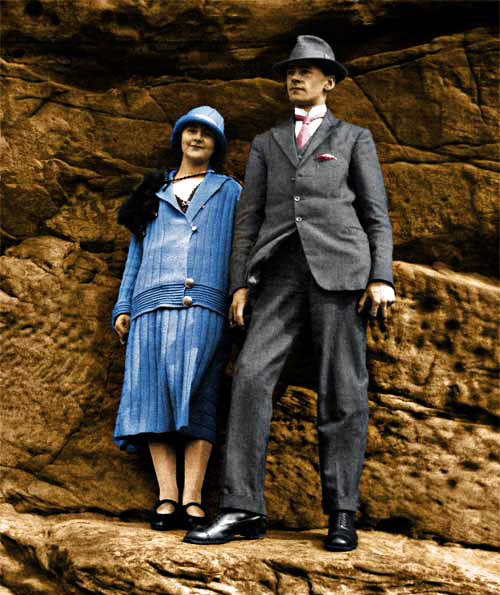 Sarah Sinton (1907 - 1934) and brother Robert (1901 - 1962)

Photograph circa 1923. Digitally colour tinted by Bob Sinton 2003.

[RFSS Feb 2004]

Sarah was born 5th May 1907 at 0 hours 10 minutes AM in 79 Weir's Place, Auchinairn, Lanarkshire, Scotland. Her birth was registered on 13th May 1907 by her father.
[RFSS Jun 2006]


Birth Certificate of Sarah Sinton - 5 May 1907

[RFSS May 2014]

Sometime between her father's death and 1927, Sarah came to Ireland with her mother and lived in Quality Hill, Laurelvale, Co. Armagh where she met Rueben Wilson of Bannfoot, Co. Armagh.

Reuben went to Canada, arriving in Halifax, Nova Scotia on 3rd April 1927, and when he had become established Sarah went to join him.
[RFSS Dec 2003]

CANADIAN IMMIGRATION RECORDS
Surname: Sinton
Given name: Sarah
Age: 21
Sex: F
Nationality: Ir
Date of arrival: 1928/05/06 (YYYY/MM/DD)
Port of arrival: Québec, Québec
Ship: MONTCALM, Canadian Pacific
Reference: RG76 - IMMIGRATION, series C-1-a
Volume: 1928 volume 3
Page: 158
Microfilm reel: T-14741
[RFSS Sep 2004]



Montcalm

Montcalm, sister of Montrose II and Montclare, was built by John Brown & Co, Glasgow and was launched in 1920. She made her Liverpool-Halifax-St. John maiden voyage on 17 January 1922. On the return leg, she rescued 23 members of the crew of the Norwegian steamer Mod.

In 1928, she was sent to Harland & Wolff, Belfast, for the installation of new single reduction turbines. When she returned to service in March 1929, she was placed on the Southampton-Canada route. She also made some Antwerp-Canada, Hamburg-Canada and Liverpool-Canada sailings over the next few years. In 1930, Montcalm made one of only two calls Canadian Pacific ever made at Reykjavik, Iceland.

By 1932, Montcalm was used principally for cruising out of Liverpool, but continued to make occasional Atlantic crossings out of Antwerp, Southampton and Liverpool. Her last crossing, from Liverpool, was in April 1939. When World War II began in September, the ship was taken over and renamed RMS Wolfe. Wolfe served successively as an armed merchant cruiser (1939), a troop transport (1941), a submarine depot ship (1942) and a destroyer depot ship (1943). Purchased by the Admiralty in 1942, she never returned to Canadian Pacific, but was laid up in 1950 and sold for breaking up in 1952.

Haws states that the renaming of Montcalm was necessary to avoid confusion with a French cruiser of that name. The selection of Wolfe as the new name, though, appears to have been quite deliberate. Major General James Wolfe and the Marquis de Montcalm were the opposing commanders in the Battle of Québec (13 September 1759), during which they both were killed. Québec was the decisive battle of the French and Indian War, which solidified British control of Canada and the end of French rule there.

Sources: Bonsor's North Atlantic Seaway; Haws' Merchant Fleets; Encyclopaedia Britannica.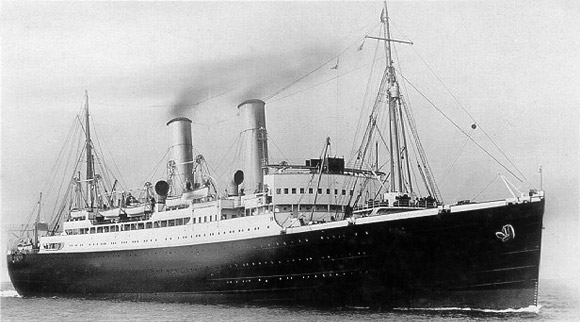 Canadian Pacific S.S. "Montcalm"

Gross Tonnage 16,418

[RFSS Sep 2004]

Ontario Deaths,1869-1937 and Overseas Deaths, 1939-1947
Name: Sarah Wilson
Event: Death
Event Date: 13 Feb 1934
Event Place: Toronto, , Ontario
Gender:
Age: 26
Estimated Birth Year: 1908
Father: John Sinton
Mother: Emma
Spouse: Reuben Wilson
Reference Number: 002149
Film Number: 1837901
Digital Folder Number: 4530327
Image Number: 01177
[RFSS Jun 2011]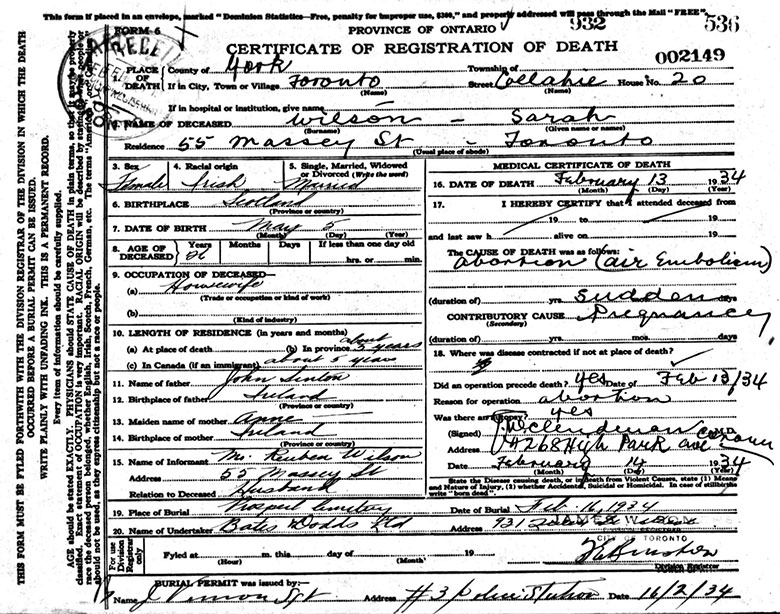 Death Certificate of Sarah Sinton Wilson 1907 - 1934

[RFSS May 2014]