Grace L. Schaedel, 99, of 2700 E. 12th St., died Tuesday at Cheyenne Health Care Center.
She was born Aug. 17, 1896, in Cheyenne.
Schaedel graduated from the University of Wyoming in 1921.
She was a writer.
She married John M. Schaedel on June 2, 1926, in Bryan, Texas.
Schaedel was a member of First Congregational Church, Laramie County Historical Society, Delta Delta Delta, Phi Kappa Phi, Pioneer Club, was a former Cheyenne Little Theatre board member and served as a Red Cross Gray lady during World War II.
Schaedel is survived by three nieces, Betty L. Hartman of Bartlesvilie, Okla., Helen K. Marquardt of Cheyenne and Doris L. Jones of Billings, Mont.; two nephews, Kenneth Logan-Warner of Robbins, Ga., and John Logan of Dearborn, Mich.; and several great-nieces and great-nephews.
She was preceded in death by one brother, Dr. William Logan in 1956; and one sister, Mabel Harris in 1981.
Services will be at 10 a.m. Monday at the Schrader Chapel with Dr. Clyde Kauffman officiating. Interment will be in Lakeview Cemetery.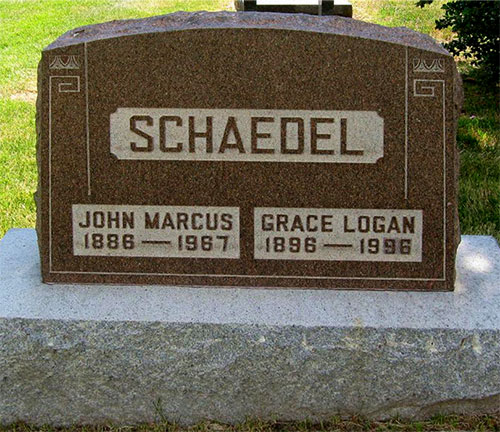 Headstone of Grace Sinton Schaedel (née Logan) 1896 - 1996
Lakeview Cemetery, Cheyenne, Laramie County, Wyoming