Born in Pottsville, July 10, 1925, he was a son of the late Oscar and Ruth Gray Sinton. He attended Pottsville High School. He was a graduate of LaSalle University, Chicago, Ill., where he received a degree in aeronautical engineering.

He was an Army Air Corps veteran of World War II.

He worked at the Lehigh Valley Dairy until retiring.

He was a member of First United Methodist Church, Pottsville, and the 11th Bomb Group.

He was preceded in death by his wife, Caroline Betz Sinton, on May 5, 2002.

Surviving are three sons, Gary G. Jr., Schuylkill Haven, Thomas E., Pittsburgh, and William, Auburn; four daughters, Sharon Krammes, Schuylkill Haven, Janice Lipsky, Pottsville, Laura L. Belser, Pottstown, and Holly Patton, Pottsville; a brother, Oscar Sinton, Tamaqua; 16 grandchildren; eight great-grandchildren; several nieces and nephews.

Funeral services will be held at 9:30 a.m. Thursday at First United Methodist Church. The Rev. W. Sanford Ostman will officiate. Friends may call from 8:30 a.m. until the time of services Thursday at the church. Memorial contributions may be made to the First United Methodist Church, Fourth and West Market streets, Pottsville, PA 17901. Interment will be in Indiantown Gap National Cemetery, Annville. Schlitzer-Allen-Pugh Funeral Home Inc., Pottsville, is in charge of arrangements.
[AMS Nov 2005]

United States Social Security Death Index
Given Name: Gary
Middle Name: G
Surname: Sinton
Birth Date: 10 July 1925
Social Security Number: 194-12-6757
State: Pennsylvania
Last Place of Residence: Schuylkill, Pennsylvania
Previous Residence Postal Code: 17901
Event Date: 22 October 2005
Age: 80
[RFSS Mar 2008]

United States Department of Veterans Affairs
SINTON, GARY G SR
SSGT US ARMY AIR FORCES
WORLD WAR II
DATE OF BIRTH: 07/10/1925
DATE OF DEATH: 10/22/2005
BURIED AT: SECTION 28 SITE 651
INDIANTOWN GAP NATIONAL CEMETERY
RR2, BOX 484 INDIANTOWN GAP ROAD ANNVILLE, PA 17003-9618
[RFSS Jan 2011]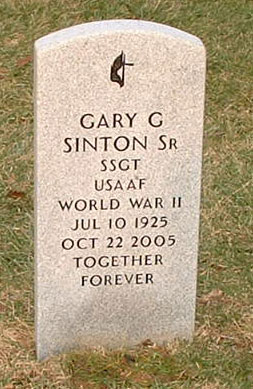 Headstone for Gary G. Sinton, Sr.
1925 - 2005

Indiantown Gap National Cemetery, Annville, Pennsylvania, USA

Photograph courtesy of Ann Heacock Sinton.


Gary G. Sinton Sr., 80, of Pottsville, died Saturday at Pottsville Hospital.