Sinton Family Home at Greenmount
1730 - 1959
Townland of Rockmancreaney, Richhill, Co. Armagh, Northern Ireland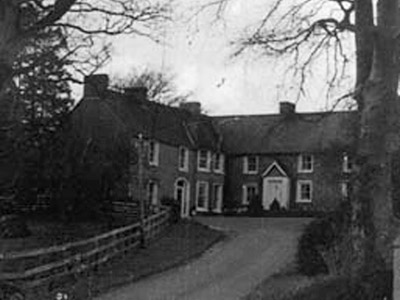 The grey section is believed to be the original dwelling.
A stone over the front door engraved 1724 has been hidden by later development.





The pink section is the newer part.

The green section is a barn in which there is a stone engraved
W. J.
1845
There are two watermills associated with the house(s). The smaller one is beside Darby's Bridge where the Richhill to Hamiltonsbawn road crosses the Tall River. The larger one, a few hundred yards upstream, is approached by a minor side road. There are two engravings on either side of a window as shown below.
The above details were obtained by Maurice Mehaffey during a visit to house in 1997.
The house at Greenmount is still in existence, although it has passed out of the Sinton family in recent years. It is a very large farm house which has at some time has either been added to, or divided, in such a way as to accommodate two separate families. It stands on high ground about 100 yards from the Richhill - Hamiltonsbawn Road (B111).

Jacob Sinton (1698-1772) and Sarah Sinton (née Mackie) were the first Sintons to live at Greenmount. They inherited the house from her father William Mackie, which would explain the MWA engraving at the larger watermill. The second engraving is probably that of William Sinton (1776-1860) whose children were all born at Greenmount.

The location of Greenmount is shown on the Google Map below.
Location: North 54° 21' 15" West 6° 32' 58" or 54.3542, -6.5495

Click and drag on the map to view surrounding area
This site is completely

FREE

but it does need money for upkeep.
If you would like to contribute then please click on the Donate button.
Thank you for your support.
Produced using software developed by Bob & Robert Sinton All rights reserved © 2002 - 2023 Sinton Family Trees