MAP 4
This map shows the townlands to the north-east of Portadown, Co. Armagh.
The new cemetery at Kernan is the burial ground for many of the churches in Portadown. In the townland of Moyraferty is believed to be the oldest Quaker burial ground in Ireland. The first burial there was in 1658 and there are two James Sintons buried there, one in 1761 and the other 1766. Both of them were sons of Thomas and Margaret Sinton, and as was common when a child died young, one born after would be given the same name. Many of the townlands mentioned in connection with those buried in Lynastown are shown on this map.
For details of those 200 burials see Lynastown.
These maps are intended SOLELY for the non-commercial use of family history research.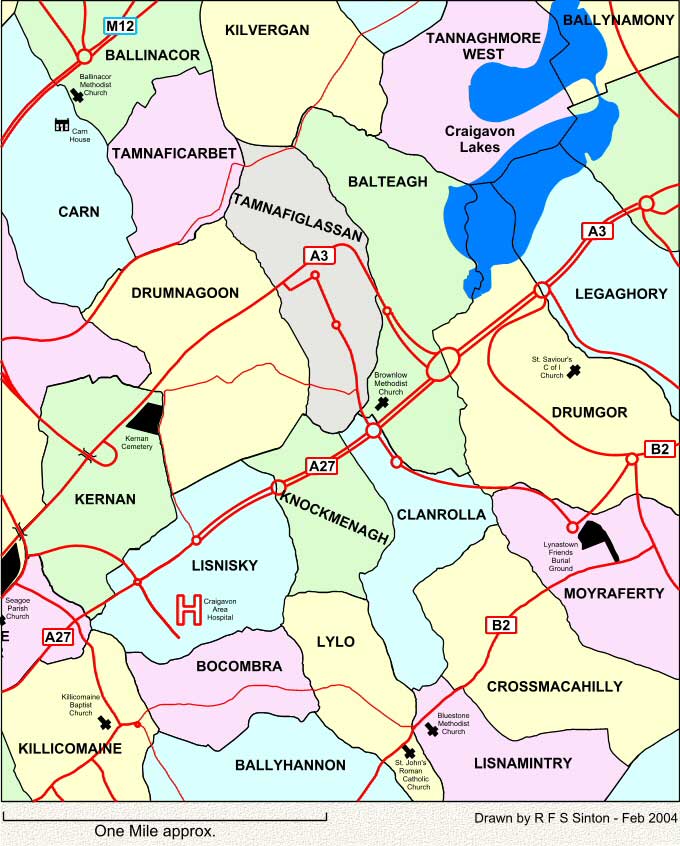 This site is completely

FREE

but it does need money for upkeep.
If you would like to contribute then please click on the Donate button.
Thank you for your support.
Produced using software developed by Bob & Robert Sinton All rights reserved © 2002 - 2023 Sinton Family Trees