MAP 13
This map shows the townlands around Richhill, Co. Armagh.
Jacob Sinton, who in some records is referred to as 'of Crucatt' (Crewcat) lived in Greenmount, Rockmacreany after his marriage. The house is still inhabited, although when Mary Atkinson, daughter of Thomas Sinton, died in 1954, the property was sold. Greenmount is the oldest know dwelling of the Sintons in Ireland, and was built by William Mackie in 1724.
The Richhill Friends Meeting House was built in 1793 to replace the one at Ballyhagan.
For details of the headstone inscriptions at the Quaker burial ground see Richhill.
Richhill Church of Ireland burials are at Kilmore Parish Church.
These maps are intended SOLELY for the non-commercial use of family history research.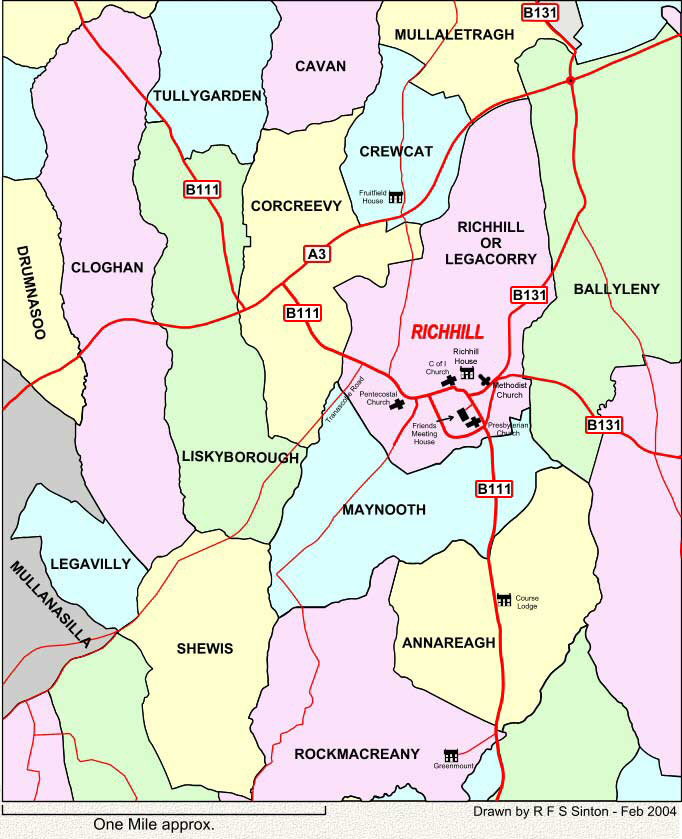 This site is completely

FREE

but it does need money for upkeep.
If you would like to contribute then please click on the Donate button.
Thank you for your support.
Produced using software developed by Bob & Robert Sinton All rights reserved © 2002 - 2023 Sinton Family Trees