Obituary published in the Naperville Clarion on Wednesday, November 8, 1899 and contributed by Timothy Ory
Mrs. Delia A. Patterson, née Brossman, was born near Naperville, Ill., March 10, 1875, and died Oct. 29, 1899, near Star City, Ind. "Her sun is gone down while it was yet day." Her life had just begun to develop. Its powers were just unfolding, and its hopes and plans just enlarging. There were plans for the new home; plans for the husband add little four-year-old girl; plans for the many long years to come, i.e., the prospective years to come. The vigor, hope, and ambition of youth naturally put death far away, they put it at the end of a long life, at the close of mature old ago. Alas death, after an illness of some ten days, changed everything. Before the sun of life had reached its meridian, it went; down, went "down while it is yet day."
We cannot say why it is so, but hope that some sweet day its meaning will be revealed. After all life is not to be measured so much by its days and years, as by its thoughts and deeds.
A little more than a week she was shut up in the sickroom, that God might time her soul to divine melodies, and that her life might be yielded in loving obedience to the Master. She found the peace divine for which her heart longed, and its blessed possession she departed this life.
Mr. Patterson has the prayers and sympathies of a host of friends in the great loss of his estimable and faithful companion, not forgetting the little daughter who hardly realized what the death of mamma means.
The remains were brought to this city for interment, and on last Wednesday at two o'clock the last solemn services were held at the home of Mr. Frank Bender, Rev. S. F. Entorf officiating. A large concourse of people were in attendance.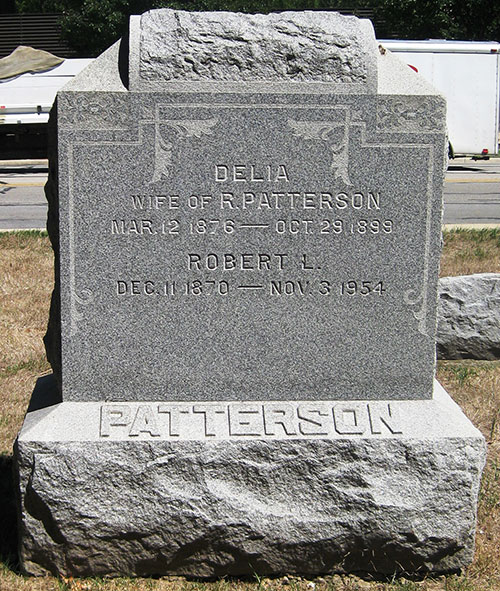 Headstone of Anna Delia Patterson (née Brossman) 1875 - 1999

Naperville Cemetery, Du Page County, Illinois

The headstone photo comes from the Find A Grave website courtesy of

Timothy Ory

The location is Naperville Cemetery, Du Page County, Illinois, United States of America.

Link to the Find A Grave site for

Anna Delia Patterson

[RFSS Dec 2015]