Report published in the Rockford Morning Star, Tuesday, November 12, 1907 reads:

REMAINS ARRIVE

Body of Harold Miles, Who Died In California, Reach Rockford.

The remains of Harold Miles who died at Fruitvale, Cal., last week, arrived in the city last evening and were taken to the undertaking parlors of Gustin Brothers, in North Main street, from which place the funeral is to be held. The service will be at 2 o'clock this afternoon, and will be given by the Rev. F. W. Barnum of Centennial church. Interment will be in Cedar Bluff cemetery.

The mother of the lad was a Rockford woman, she being the daughter of Mrs. Matilda Collins, of 203 North Main Street and is at rest in the cemetery in this city. Other relatives are Mr. and Mrs. Richard Collins, an uncle and aunt, and Mr. and Mrs. William Andrews.

Report kindly supplied by John Maney, Rockford, Illinois.

RFSS Jun 2015]


California Death Index
Name: Harrold Miles
Event Type: Death
Event Date: 1907
Event Place: , , California, United States
Gender: Unknown
Age: 7
Birth Year (Estimated): 1900
Certificate Number: 26513
GS Film Number: 001686046
Digital Folder Number: 005240840
Image Number: 00325
[RFSS Jun 2015]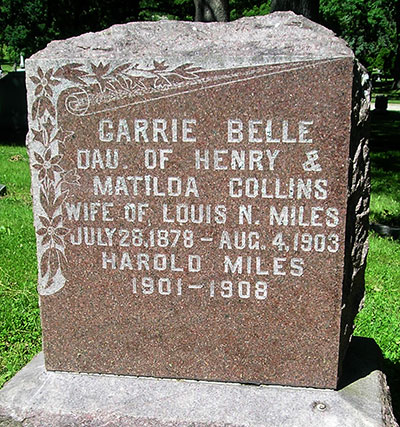 Headstone of Harold Miles 1900 - 1907


Cedar Bluff Cemetery, Rockford, Winnebago County, Illinois

The headstone photograph comes from the Find A Grave website courtesy of

Doug M

The location is Cedar Bluff Cemetery, Rockford, Winnebago County, Illinois, United States of America.

Link to the Find A Grave site for

Harold Miles

[RFSS Jun 2015]


The headstone dates for Harold are obviously incorrect as there two sources for his death in 1907.