Born
1910 in Kentucky, United States of America
Died
11 February 1984 in Kentucky, United States of America
Buried
in Cremated - Memorial in Highland Cemetery, Fort Mitchell, Kenton County, Kentucky, United States of America
GENERAL NOTES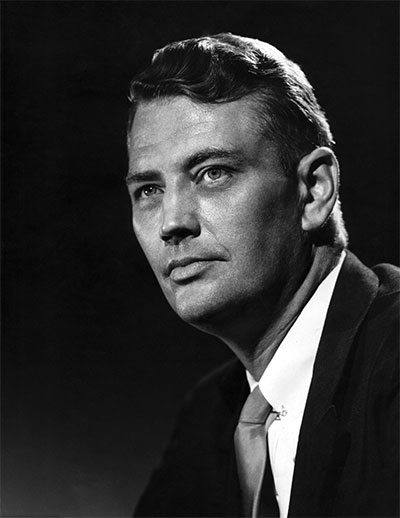 Frank Sinton Milburn 1910 - 1984

Photograph © George Richmond Hoxie

Used with permission from Beth Hoxie



United States Census taken on 1st April 1930
Name: Frank S. Milburn
Event Place: Fort Mitchell, Kenton, Kentucky, United States
Gender: Male
Age: 19
Marital Status: Single
Race: White
Race (Original): White
Relationship to Head of Household: Son
Relationship to Head of Household (Original): Son
Birth Year (Estimated): 1911
Birthplace: Kentucky
Father's Birthplace: Kentucky
Mother's Birthplace: Kentucky
District: ED 42
Sheet Number and Letter: 4A
Household ID: 87
Line Number: 23
Affiliate Name: The U.S. National Archives and Records Administration (NARA)
Affiliate Publication Number: T626
Affiliate Film Number: 762
Image Number: 00697
District: ED 42
Sheet Number and Letter: 4A
Household ID: 87
Line Number: 23
Affiliate Name: The U.S. National Archives and Records Administration (NARA)
Affiliate Publication Number: T626
Affiliate Film Number: 762
Image Number: 00697

| | | | | |
| --- | --- | --- | --- | --- |
| Household | Role | Sex | Age | Birthplace |
| Grace S. Milburn | Head | F | 45 | Kentucky |
| John F. Milburn | Son | M | 23 | Kentucky |
| Frank S. Milburn | Son | M | 19 | Kentucky |
| Moses Jackson | Servant | M | 45 | Virginia |
| Mary Jackson | Servant | F | 30 | Kentucky |
[RFSS Jan 2014]



Transcription of a Notice published in the Hamilton Daily News Journal, Sept. 11, 1943

Information kindly supplied by by Jetta McQuiston, Ohio
There are two pdf files which tell an intriguing story of his life and work
These were kindly reported to me by by Jetta McQuiston, Ohio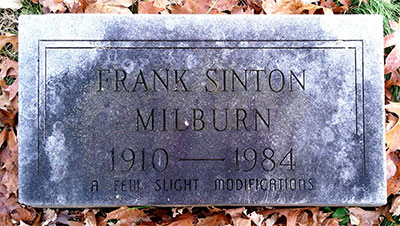 Memorial marker for Frank Sinton Milburn 1910 - 1984
Highland Cemetery, Fort Mitchell, Kenton County, Kentucky
The memorial marker photo comes from the Find A Grave website courtesy of
Debbie J
The location is Highland Cemetery, Fort Mitchell, Kenton County, Kentucky, United States of America.
Link to the Find A Grave site for
Frank Sinton Milburn
[RFSS Feb 2016]
This site is completely

FREE

but it does need money for upkeep.
If you would like to contribute then please click on the Donate button.
Thank you for your support.
Produced using software developed by Bob & Robert Sinton All rights reserved © 2002 - 2022 Sinton Family Trees