Jacob Sinton was a boat builder by trade, and worked in the pattern shop of the Reading Co. to within four years of his death. He was of Sunbury, PA.
Copies of pages from Jacob's bible received from Wendy Cooper Francis. Includes births and marriages of himself and children.
[JHJ]



1870 US Census record taken on Wednesday, 1 June.

Inhabitants in Pottsville, Schuylkill County, Pennsylvania, USA.
Name
Age
Sex
Color
Profession
Value of
Real Estate
Owned
Birthplace
1
Jacob Sinton
55
M
W
Carpenter
2000

Pennsylvania

2
Debora Sinton
45
F
W
Keeping House
-
Pennsylvania
3
Ellen Sinton
27
F
W
No Occupation
-

Pennsylvania

4
Albert Sinton
20
M
W
Laborer
-
Pennsylvania
5
Henrietta Sinton
18
F
W
No Occupation
-

Pennsylvania

6
Sydney Sinton
16
M
W
No Occupation
-
Pennsylvania
7
Wilbert Sinton
14
M
W
No Occupation
-

Pennsylvania

8
Mary Sinton
13
F
W
-
-
Pennsylvania
9
George Sinton
8
M
W
-
-

Pennsylvania

10
Rebecca Sinton
7
F
W
-
-
Pennsylvania
11
Phoebe Sinton
5
F
W
-
-

Pennsylvania
Father
Foreign
Mother
Foreign
Married
within
the year
Attended
School
within
the year
Cannot
Read
Cannot
Write
Whether deaf
and dumb, blind,
insane, idiotic,
pauper,or convict
1
-
-
-
-
-
-
-
2
-
-
-
-
-
-
-
3
-
-
-
-
-
-
-
4
-
-
-
-
-
-
-
5
-
-
-
-
-
-
-
6
-
-
-
-
-
-
-
7
-
-
-
-
-
-
-
8
-
-
-
Y
-
-
-
9
-
-
-
-
-
-
-
10
-
-
-
-
-
-
-
11
-
-
-
-
-
-
-
[RFSS Jul 2011]



1900 US Census record taken on Friday, 1 June.

Residence - 1240 (Street name not recorded) Pottsville, Schuylkill County, Pennsylvania, USA
Name
Relation
to head
Color
or Race
Sex
DOB
Age
Marital
Status
Years
Married
Children
Born
Children
Living
Birthplace
1
Jacob Sinton
Head
White
M
Jan 1820
80
W
-
-
-
Pennsylvania
2
Jesse Wildermuth
Son in law
White
M
Sep 1842
57
M
4
-
-
Pennsylvania
3
Ellen Wildermuth
Daughter
White
F
Aug 1844
58
M
4
0
0
Pennsylvania
4
May C. Wildermuth
Niece
White
F
Aug 1883
16
S
-
-
-
Pennsylvania
Father's
Birthplace
Mother's
Birthplace
Year of
Immigration
Years
in US
Natural-ization
Year
Occupation
Can
Read
Can
Write
Can Speak
English
1
-
-
-
-
-
Carpenter
Y
Y
Y
2
Pennsylvania
Pennsylvania
-
-
-
Painter
Y
Y
Y
3
Pennsylvania
Pennsylvania
-
-
-
Housekeeper
Y
Y
Y
4
Pennsylvania
Pennsylvania
-
-
-
Servant
Y
Y
Y
Enumeration District: 0188, Sheet Number and Letter: 3A, Household ID: 43, Reference Number: 3, GSU Film Number: 1241485, Image Number: 00194
[RFSS Jan 2011]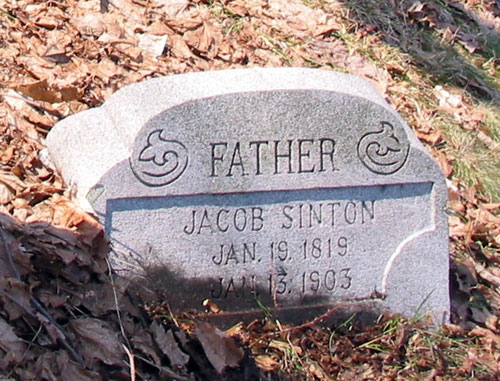 Headstone of Jacob Sinton 1819 - 1903
Pottsville Presbyterian Cemetery, Schuylkill County, Pennsylvania, USA
Photograph courtesy of Ann Marie Sinton