Wallace Kerr Sinton
(Wally)
Born
6 July 1912 in Auchinairn, Lanarkshire, Scotland, United Kingdom
[ s1185 ]
Married
1931 in Portadown, Co. Armagh, Northern Ireland, United Kingdom [ s621 ]
NOTE:
Information has been withheld on living persons and those born after 1921 for whom no death record is available.
GENERAL NOTES
Came to Laurelvale sometime between 1923 and 1927 with his mother and sisters Alice and Sarah. Lived with their Aunt Sarah in Quality Hill.
After his marriage he and his family lived in Portadown.
Emigrated to Toronto, Canada 1950's.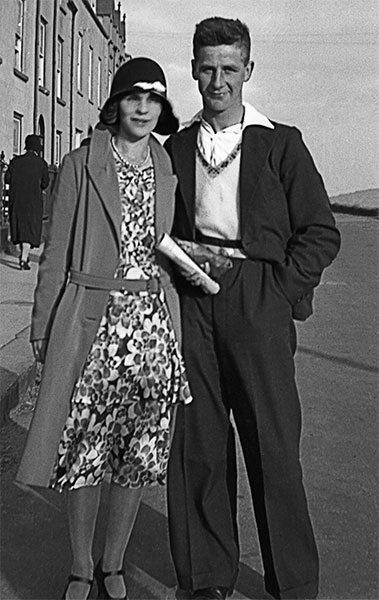 Wallace and Evelyn Sinton
Liberté - Passenger Record
Name: Wallace SINTON
Date of departure: 26 February 1953
Port of departure: Southampton
Passenger destination port: New York, USA
Passenger destination: New York, USA
Date of Birth: 1913 (calculated from age)
Age: 40
Marital status:
Sex: Male
Occupation: Joiner
UK Address: 31 Queen St., Portadown, Co. Armagh
Passenger recorded on: Page 6 of 8
Ship: SS LIBERTÉ
Official Number: 5607332
Master's name:
Steamship Line: Compagnie Générale Transatlantique
Where bound: New York, USA
Registered tonnage: 49,746 gross tons
Service speed: 27 knots
Passengers: 2,024
Passengers on voyage: 160
[RFSS Sep 2010]

S.S. Liberté, Compagnie Générale Transatlantique
| | |
| --- | --- |
| [ s1185 ] | Birth Certificate - Registered in the Western District of Cadder in the County of Lanark, Page 27, Entry number 81 - Wallace Kerr Sinton, born 6th July 1912, 3:05 a.m. at 79 Weir's Place, Auchinairn - BC1912-06-08-WKS |
| | |
| --- | --- |
| [ s621 ] | Marriage Registration - Register of Marriages in the District of Banbridge in the County of Armagh, 1931, June Quarter, Page 211 - MR1931-WKS-EW |
This site is completely

FREE

but it does need money for upkeep.
If you would like to contribute then please click on the Donate button.
Thank you for your support.
Produced using software developed by Bob & Robert Sinton All rights reserved © 2002 - 2021 Sinton Family Trees