Three Sinton couples, Colorado Springs, circa 1980
Photograph comes courtesy of
Joy H. Jones
Colorado Springs
To see a persons genealogy click on their face.

To identify a person move the mouse cursor near to their face.
Her obituary, published in the Colorado Springs Gazette Telegraph on Sunday 24 Sep 2006, reads
Mary Seabolt Sinton
Mary Seabolt Sinton died September 18, 2006 at home after a long illness. She was born the oldest of three children to Fred and Bea Porter Seabolt on May 5, 1929 in Cerulean, KY. She moved to Colorado Springs at the age of 13 and attended South Jr. High and Colorado Springs High School (now Palmer.)
Mary and Melvin Sinton were married in 1947 and had three children. She and the children followed Mel in his career moves to Pueblo, Denver, Fort Morgan, back to Denver and finally in 1975, back to Colorado Springs.
During these years, Mary acquired an Associate Degree from Northeastern Junior College, BS and BA Degrees from CU Boulder, and earned a Masters Degree from Colorado Medical School as a Physicians Associate. She practiced Pediatric Medicine at a neighborhood clinic in Denver. Her interests were varied by gardening and reading were her favorite activities.
She retained a close relationship with a large extended family, but her own family was her greatest love. Survivors are her husband, Melvin Sinton; her children.Tom (wife Carol) of Port Angeles, WA, Lynda Sinton (husband Jack Calkins) of Parker, CO, David Sinton of Colorado Springs, CO; her beloved sister, Betty Parsons, of Canon City, CO; a brother, J.F. Seabolt/Doty, of Austin.TX; five grandchildren, ten great-grandchil-dren, two nieces, one nephew, and the best friends in the world.
Per her wishes, there will be a private family service. In lieu of flowers, the family suggests a donation to the Evergreen Chapel Restoration Fund, or a charity of your choice.
[JHJ Nov 2009]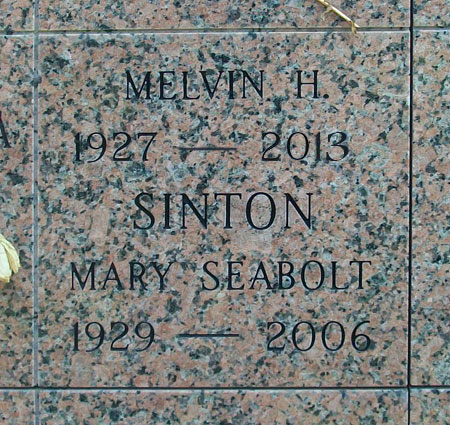 Headstone of Mary Seabolt Sinton 1929 - 2006
Evergreen Cemetery, Colorado Springs, El Paso County, Colorado