Obituary published in the Colorado Springs Gazette Telegraph on Tuesday 12 September 1972 reads
Funeral services for Spencer F. Hewins will be held Friday in Arlington National Cemetery.
Mr. Hewins, a retired Coast Guard captain, died Friday in Bethesda, Md. He was a resident of Leonardtown, Md., and Orleans, Mass.
He was married to the former Frances Willett of Colorado Springs. Mrs. Hewins survives.
Born in 1909 in Washington, D.C, Mr. Hewins was the son of a distinguished American naval architect, Lyman F. Hewins.
He attended Technical High School in Washington and was graduated in 1930 from the U.S. Coast Guard Academy. During the 1930s he participated in some of the early measurement studies of the Atlantic Ocean floor.
During World War II he served in the Pacific Theater and later established and directed Marine Corps training in small boat operations at Camp Lejeune, N.C.
Following his retirement he taught science courses in the Calhan and Cheyenne Mountain school districts for several years. For the last 10 years, he was associated with his son in the breeding of Angus cattle at his Uranus Farms operation in Leonardtown.
Other than his widow, he is survived by a son, Lyman W. Hewins of Uranus Farms; three daughters, Mrs. Robert E. Jones of Colorado Springs, Mrs. Charles M. Parker, Richmond, Va., and Mrs. Dale E. Bryson, Tulsa, Okla.; a sister, Mrs. Robert E. Gallagher, Orleans, Mass. and Fort Lauderdale, Fla., and nine grandchildren.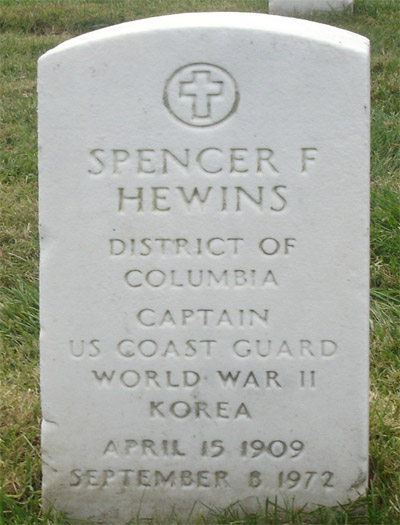 Headstone of Capt. Spencer F. Hewins 1909 - 1972
Arlington National Cemetery, Arlington, Arlington County, Virginia