Obituary published in the Republican & Herald, Pottsville, Pennsylvania, USA on 12 June 2007.
William W. Seitzinger Died June 9, 2007
William W. Seitzinger Sr., 93, of 8103 E. Southern Ave., Lot 293, Mesa, Ariz., died Saturday at the Citadel Nursing Home, Arizona.
Born in Frackville, Oct. 12, 1913, he was a son of the late William and Mary Watkins Seitzinger.
He was a retired supervisor, having worked at Boeing Aircraft Industry, Philadelphia, for 24 years.
He was a member of Trinity Evangelical Congregational Church, Frackville.
He was preceded in death by a son, William Seitzinger Jr.
Surviving are his wife, Virginia Sinton Seitzinger; and a son, Bruce Seitzinger.
Funeral services will be held at 11 a.m. Thursday from Nice-Hart Funeral Home Inc., 9 North Lehigh Avenue, Frackville. The Rev. George Drupp will officiate.
Friends may call from 10 to 11 a.m. at the funeral home. Interment will be in Odd Fellows Cemetery, West Mahanoy Township.
[AMS Jul 2007]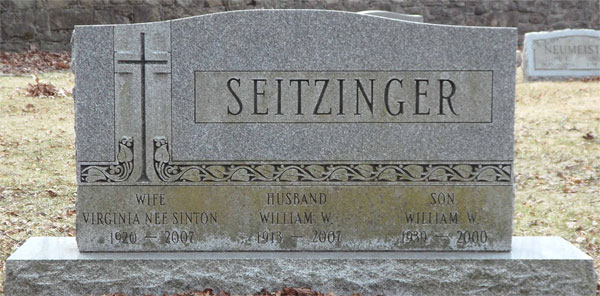 Headstone of William Watkins Seitzinger 1913 - 2007
Odd Fellows Cemetery, Frackville, Schuylkill County, Pennsylvania