Born
14 July 1841 in Virginia, United States of America
Buried
in Hollywood Cemetery, Richmond, Richmond City, Virginia, United States of America
Married
20 November 1867 in Short Pump, Henrico County, Virginia, United States of America [ s1472 ]
GENERAL NOTES
United States Census, 1 June 1880
Name: Mollie E. Sinton
Residence: Tuckahoe, Henrico, Virginia
Birthdate: 1845
Birthplace: Virginia, United States
Relationship to Head: Wife
Spouse's Name: Charles H. Sinton
Spouse's Birthplace: Virginia, United States
Father's Birthplace: Virginia, United States
Mother's Birthplace: Virginia, United States
Race or Color (Expanded): White
Ethnicity (Standardized): American
Gender: Female
Martial Status: Married
Age (Expanded): 35 years
Occupation: Keeps House
NARA Film Number: T9-1370
Page: 225
Page Character: C
Entry Number: 2535
Film number: 1255370
Household Gender Age
Spouse Charles H. Sinton M 40
Mollie E. Sinton F 35
Child Mcgruder Sinton M 12
Child Hallie Sinton F 7
Child Mollie Sinton F 7
Child Nannie B. Sinton F 4
[RFSS Mar 2011]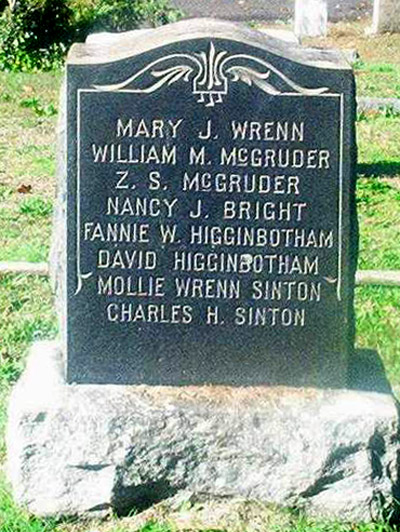 Mary J. Wrenn, William M. McGruder,
Z. S. McGruder, Nancy J. Bright,
Fannie W. Higginbotham, David Higginbotham,
Mollie Wrenn Sinton, Charles H. Sinton
The headstone photograph comes from the Find A Grave website courtesy of
George Seitz
The location is Hollywood Cemetery, Richmond, Richmond City, Virginia, USA.
[RFSS Mar 2011]
MARRIAGE NOTES
Virginia Marriages, 1785-1940
Name: Charles R. Sinton
Birth Date: 1844
Birthplace: Richmond, Virginia
Age: 23
Spouse's Name: Mary E. Wrenn
Spouse's Birth Date: 1844
Spouse's Birthplace: Henrico, Virginia
Spouse's Age: 23
Event Date: 20 Nov 1867
Event Place: Henrico, Virginia
Father's Name: James Sinton
Mother's Name: Harriet Sinton
Spouse's Father's Name: Wm. H. Wrenn
Spouse's Mother's Name: Mary Jane Wrenn
Race: White
Marital Status: Single
Spouse's Race: White
Spouse's Marital Status: Single
Indexing Project (Batch) Number: M01796-0
System Origin: Virginia-EASy
GS Film number: 2048455
[RFSS May 2011]
| | |
| --- | --- |
| [ s1472 ] | Marriage Registration - Virginia Marriages, 1785-1940 - Marriage of Charles R. Sinton and Mary E. Wrenn on 20 November 1867 in Henrico County, Virginia, United States of America - indexing project (batch) number: M01796-0, system origin: Virginia-EASy, source film number: 2048455, reference number: ? - MR1867-20-11-CHS-MEW |
This site is completely

FREE

but it does need money for upkeep.
If you would like to contribute then please click on the Donate button.
Thank you for your support.
Produced using software developed by Bob & Robert Sinton All rights reserved © 2002 - 2023 Sinton Family Trees