He was a medical doctor, "my son, Dr Sinton".
No children.

Virginia, Births and Christenings, 1853-1917
Name: A. C. Sinton
Gender: Male
Birth Date: 07 Sep 1890
Birthplace: Hanover, Virginia
Father's Name: A. C. Sinton
Mother's Name: M. G. Sinton
Indexing Project (Batch) Number: I01762-6
System Origin: Virginia-EASy
GS Film number: 2046938
Reference ID: 435
[RFSS Apr 2013]


| | | |
| --- | --- | --- |
| | Richmond Times-Dispatch: Sunday, April 20, 1919. | |
Lieutenant Sinton Returns.

Lieutenant Arthur Clayton Sinton, Surgeon United States Navy, has arrived in New York attached to the U. S. S. Kaiserin Auguste Victoria, after service in France for two years. Lieutenant Sinton, who is the son of Mr. and Mrs. Arthur C. Sinton, of 106 West Franklin Street, was at Paullac, France, for about eighteen months and more recently served as chief operating surgeon in the United States Naval Base Hospital at Brest. He is expected in Richmond shortly to be the guest of his parents here.




USS Kaiserin Auguste Victoria - New York 1919
Built in 1905 by Vulcan, Stettin, Germany.
Launched 29 August 1905.
During World War I she was laid up at Hamburg, Germany and, after the fighting ended, she was allocated to Great Britain and then chartered for use by the U.S. Navy.
Commissioned USS Kaiserin Auguste Victoria (ID 3963), 15 February 1919 at Paullac, France.
Decommissioned 23 December 1919 at New York and returned to the United States.
Sold in 1920 to the Cunard Steamship Co., Ltd. of Liverpool, England.
Sold in 1921 to the Canadian Pacific Steamship Line of Vancouver, British Columbia, Canada and renamed RMS Empress of Scotland.
Sold for scrap in December 1930 she burned and sank and was finally broken up in October 1931 at Blyth, England.
Specifications:
Displacement: 22,000 tons
Length: 677' 6"
Beam: 77' 4"
Draft: 28'
Speed: 17.5 kts.
Armament: None
Propulsion: Two 905ihp quadruple expansion steam engines, two shafts.
[RFSS Apr 2015]

United States Census, 1 January 1920
Name: Arthur C. Sinton Jr.
Titles and Terms: Jr
Event Type: Census
Event Year: 1920
Event Place: Gulfport, Harrison, Mississippi, United States
Gender: Male
Age: 29
Marital Status: Single
Race: White
Race (Original): White
Can Read: Yes
Can Write: Yes
Relationship to Head of Household: Medical Corps
Relationship to Head of Household (Original): Medical Corp
Birth Year (Estimated): 1891
Birthplace: Virginia
Father's Birthplace: Virginia
Mother's Birthplace: Virginia
District: 48
Sheet Number and Letter: 22B
Line Number: 83
Affiliate Name: The U.S. National Archives and Records Administration (NARA)
Affiliate Publication Number: T625
GS Film number: 1820876
Digital Folder Number: 004312363
Image Number: 00959
[RFSS Apr 2015]

United States Census, 1 April 1930
Name: Arthur C. Sinton Jr.
Titles and Terms: Jr
Event Type: Census
Event Year: 1930
Event Place: Richmond, Richmond (Independent City), Virginia, United States
District: 0035
Gender: Male
Age: 39
Marital Status: Single
Race: White
Race (Original): White
Relationship to Head of Household: Lodger
Relationship to Head of Household (Original): Lodger
Birth Year (Estimated): 1891
Birthplace: Virginia
Father's Birthplace: Virginia
Mother's Birthplace: Virginia
Sheet Number and Letter: 18B
Household ID: 291
Line Number: 70
Affiliate Name: The U.S. National Archives and Records Administration (NARA)
Affiliate Publication Number: T626
Affiliate Film Number: 2477
GS Film number: 2342211
Digital Folder Number: 004547428
Image Number: 00304
Household Gender Age Birthplace
Lodger Arthur C. Sinton Jr. M 39 Virginia
[RFSS Dec 2013]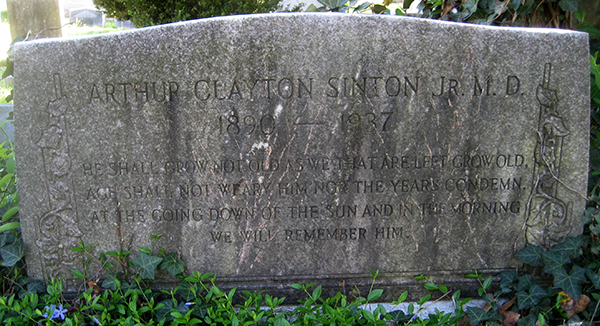 Arthur Clayton Sinton Jr. M.D.
1890 - 1937
HE SHALL GROW NOT OLD, AS WE THAT ARE LEFT GROW OLD.
AGE SHALL NOT WEARY HIM, NOR THE YEARS CONDEMN.
AT THE GOING DOWN OF THE SUN AND IN THE MORNING
WE WILL REMEMBER HIM
Hollywood Cemetery, Richmond, Virginia
The photograph comes from the Find A Grave website courtesy of MTB
The location is Hollywood Cemetery, Richmond, Richmond City, Virginia, United States of America.
Link to the Find A Grave site for Arthur Clayton Sinton Jr.
[RFSS Dec 2013]