Quaker.

Ireland Births and Baptisms
Name: Emily Elizabeth Sinton
Gender: Female
Birth Date: 28 Apr 1888
Birthplace: TANNAMORE HOUSE, , , Ireland
Father's Name: William H. Sinton
Mother's Name: Lucy
Registration District: Banbridge
Volume Number: 1
Page Number: 186
[RFSS Aug 2011]

Attended Friends School, Lisburn 1901 to 1904. (#1552)
Source: Billy Swain, Lisburn.
[RFSS Nov 2010]

She had at least one child as William Henry Sinton, in a letter, 3 March 1978, from Tamnaghmore House says, "My cousin Theodore J. Snoddy, an Art Historian..."

The Quaker Burial Ground in Belfast is located on Balmoral Avenue, behind the Presbyterian Church. Info of death date and location obtained by Dan Sinton from headstone.
[RFSS Sep 2003]


Ellis Island, New York - Passenger Record

First Name: Emily Elizabeth
Last Name: Sinton
Ethnicity: Irish
Last Place of Residence: Tandragee, Ireland
Date of Arrival: February 4, 1920
Age at Arrival: 26y7m
Gender: F
Marital Status: S
Ship of Travel: Columbia
Port of Departure: Londonderry
Manifest Line Number: 0017

Visiting her brother George at Pompeys Pillar, Billings, Montana on 6 month visa.
First visit. She had at least $50. Height 5ft 4in, complexion - fair, hair - auburn, eyes - blue. Place of birth - Tandragee, Ireland

[RFSS Sep 2004]

Anchor Line S.S. Columbia

Built by D. and W. Henderson and Co Ltd, Glasgow, Scotland, 1902. 8,292 gross tons; 503 (bp) feet long; 56 feet wide. Steam triple expansion engines, twin screw. Service speed 15 knots. 1,303 passengers (345 first class, 218 second class, 740 third class).Two masts and three funnels. Steel hull with four decks.


She was chief bridesmaid at the wedding of her sister Sarah in 1908. See Wedding Photo
[RFSS Mar 2008]



1901 Census record taken on Sunday, 31 March.

Residents of a house 15 in Tamnaghmore (Mullahead, Co. Armagh)

The surname Sinton has been wrongly transcribed as Tinton in the Irish National Archives database.
| | | | | | | |
| --- | --- | --- | --- | --- | --- | --- |
| | Surname | Forename | Age | Sex | Relation to head | Religion |
| 1 | Sinton | William Henry | 59 | Male | Head of Family | Society of Friends |
| 2 | Sinton | Lucy | 47 | Female | Wife | Society of Friends |
| 3 | Sinton | Theodore | 17 | Male | Son | Society of Friends |
| 4 | Sinton | Sarah | 15 | Female | Daughter | Society of Friends |
| 5 | Sinton | George | 14 | Male | Son | Society of Friends |
| 6 | Sinton | John Henry | 8 | Male | Son | Society of Friends |
| 7 | Sinton | Emily Eliza | 12 | Female | Daughter | Society of Friends |
| 8 | Fearon | Sarah | 19 | Female | Servant | Church of Ireland |
| | | | | | |
| --- | --- | --- | --- | --- | --- |
| | Birthplace | Occupation | Literacy | Marital Status | Specified Illnesses |
| 1 | Co. Armagh | Farmer | Read and write | Married | - |
| 2 | Co. Antrim | - | Read and write | Married | - |
| 3 | Co. Armagh | Farmers Son | Read and write | Not Married | - |
| 4 | Co. Armagh | At School | Read and write | Not Married | - |
| 5 | Co. Armagh | At School | Read and write | Not Married | - |
| 6 | Co. Armagh | At School | Read and write | Not Married | - |
| 7 | Co. Armagh | At School | Read and write | Not Married | - |
| 8 | Co. Armagh | General Domestic | Read and write | Not Married | - |
[RFSS Jun 2010]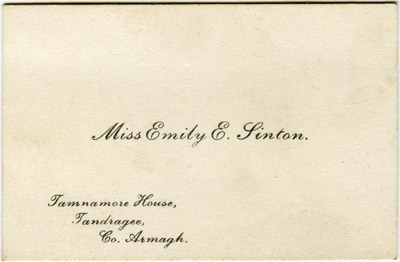 Personal card of Emily Elizabeth Sinton

Courtesy of Muriel Bebe, Laurelvale, Co. Armagh, Northern Ireland


[RFSS Sep 2010]





Headstone of Emily Elizabeth Snoddy 1888 - 1975




Friends Burial Ground, Belfast, Co. Antrim


© 2006 Sinton Family Trees

EMILY ELIZABETH SNODDY


DIED 9TH FEB. 1975
AGED 86 YEARS
[RFSS Feb 2014]