Quaker.

Ireland, Civil Registration Birth Indexes
Name: George Chapman Sinton
Registration District: Banbridge
Registration Quarter and Year: Jan - Mar 1887
Volume Number: 1
Page Number: 182
[RFSS Jul 2011]

He was a successful cattle man. {LBS ...George C. Sinton of Manhattan, Montana ... 1940}.
"George and his wife and daughter were at home in Ireland from October 1911 to 8 Mar 1912. His father died 22 March, two weeks later."
[DMS]



1901 Census record taken on Sunday, 31 March.

Residents of a house 15 in Tamnaghmore (Mullahead, Co. Armagh)
| | | | | | | |
| --- | --- | --- | --- | --- | --- | --- |
| | Surname | Forename | Age | Sex | Relation to head | Religion |
| 1 | Sinton | William Henry | 59 | Male | Head of Family | Society of Friends |
| 2 | Sinton | Lucy | 47 | Female | Wife | Society of Friends |
| 3 | Sinton | Theodore | 17 | Male | Son | Society of Friends |
| 4 | Sinton | Sarah | 15 | Female | Daughter | Society of Friends |
| 5 | Sinton | George | 14 | Male | Son | Society of Friends |
| 6 | Sinton | Emily Eliza | 12 | Female | Daughter | Society of Friends |
| 7 | Sinton | John Henry | 8 | Male | Son | Society of Friends |
| 8 | Fearon | Sarah | 19 | Female | Servant | Church of Ireland |
Birthplace
Occupation
Literacy
Marital
Status
Specified
Illnesses
1
Co. Armagh
Farmer
Read and write
Married
-
2
Co. Armagh
-
Read and write
Married
-
3
Co. Armagh
Farmers Son
Read and write
Not Married
-
4
Co. Armagh
Linen Manufacturer
Read and write
Not Married
-
5
Co. Armagh
At School
Read and write
Not Married
-
6
Co. Armagh
At School
Read and write
Not Married
-
7
Co. Armagh
At School
Read and write
Not Married
-
8
Co. Armagh
General Domestic
Read and write
Not Married
-
[RFSS Jun 2010]



Ellis Island, New York - Passenger Record

The first record is his initial entry into the USA.

First Name:

George

Last Name:

Sinton

Ethnicity: Great Britain, Irish

Last Place of Residence: Iorninndmore, Ireland

(for Iorninndmore read Tamnaghmore)

Date of Arrival: May 5, 1907

Age at Arrival: 19y

Gender: M

Marital Status: S

Ship of Travel: Baltic

Port of Departure: Liverpool

Manifest Line Number: 0012

From manifest: Says George is a Non Immigrant Alien in transit to Canada.

It says he is not joining any friends or relatives

but going to Winnnipeg to seek work.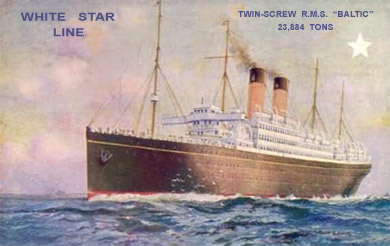 White Star Line - S.S. Baltic

Built by Harland & Wolff Limited, Belfast, Northern Ireland, 1904. 23,884 gross tons; 726 (bp) feet long; 75 feet wide. Steam quadruple expansion engines, twin screw. Service speed 16 knots. 2,875 passengers (425 first class, 450 second class, 2,000 third class).Two funnels, four masts.



Border Crossings From Canada to United States 1895-1956
Name: George Sinton
Arrival Date: Dec 1907
Arrival Port: Winnipeg, Manitoba,
Age: 20
Estimated Birth Year: 1887
Birthplace: Taubregger, (for Taubregger read Tandragee)
Birth Country: Ireland
Gender: Male
Race: Irish
NARA Publication Title: Manifests of Passengers Arriving in the St. Albans, VT, District through Canadian Pacific and Atlantic Ports, 1895-1954
NARA Publication Number: M1464
NARA Roll Number: 68
[RFSS Mar 2011]



Ellis Island, New York - Passenger Record

The second record is on his return from a visit to his parents in Ireland,
accompanied by his wife and eldest daughter.

First Name:

George C.

Last Name:

Sinton

Date of Arrival: Mar 15, 1912

Age at Arrival: 25y

Gender: M

Marital Status: S

Ship of Travel: Lusitania

Port of Departure: Liverpool

Manifest Line Number: 0023

From manifest: Height: 5'11"

Complexion: Fresh

Hair: Brown

Eyes: Blue

Born: Tandragee

[RFSS Mar 2008]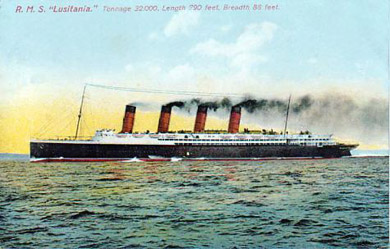 Cunard Line - S.S. Lusitania

Built by John Brown & Company, Clydebank, Scotland, 1907. 31,550 gross tons; 787 (bp) feet long; 87 feet wide. Steam turbine engines, quadruple screw. Service speed 25 knots. 2,165 passengers (563 first class, 464 second class, 1,138 third class). Four funnels and two masts.



United States Census, 15 April 1910
Name: Sinton
Birthplace: Ireland
Relationship to Head of Household: Self
Residence: Billings Ward 2, Yellowstone, Montana
Marital Status: Single
Race : White
Gender: Male
Immigration Year: 1907
Father's Birthplace: Ireland
Mother's Birthplace: Ireland
Family Number:
Page Number: 19
[RFSS Mar 2011]

United States Census, 1 January 1920
Name: George C. Sinton
Event Place: School District 24, Yellowstone, Montana, United States
District: 180
Gender: Male
Age: 31
Marital Status: Married
Race: White
Race (Original): White
Can Read: Yes
Can Write: Yes
Relationship to Head of Household: Head
Relationship to Head of Household (Original): Head
Own or Rent: Own
Birth Year (Estimated): 1889
Birthplace: Ireland
Immigration Year: 1900
Father's Birthplace: Ireland
Mother's Birthplace: Ireland
Sheet Number and Letter: 6A
Household ID: 120
Line Number: 24
Affiliate Name: The U.S. National Archives and Records Administration (NARA)
Affiliate Publication Number: T625
GS Film number: 1820978
Digital Folder Number: 004313246
Image Number: 00452

Household
Gender
Age
Birthplace
Head
George C. Sinton
M
31
Ireland
Wife
Kittie C. Sinton
F
27
Illinois
Daughter
Violet E. Sinton
F
8
Montana
Daughter
Eileen Sinton
F
3y4m
Montana
Son
Maynard G. Sinton
M
6m
Montana
Uncle
Charles Hines
M
70
Canada
[RFSS Mar 2011]

A view from 1939:

MANHATTAN, (4,258 alt., 501 pop.), is a one-street town with a few business buildings facing a tree-enclosed park. It was named by a group of New Yorkers who operated under the name of the Manhattan Co. and owned land here. The George Sinton ranches, one of the largest cattle spreads north of Texas, has headquarters here.

Source: Montana: A State Guide Book; Compiled and Written by the Federal Writers' Project of the Work Projects Administration for the State of Montana; September, 1939.
[from mtlinks.com RFSS Mar 2008]

U.S. Social Security Death Index
First Name: George
Last Name: Sinton
Birth Date: 21 December 1888
Social Security Number: 516-42-8672
Place of Issuance: Montana
Last Residence: Gallatin, Montana
Zip Code of Last Residence: 59741
Death Date: September 1976
Estimated Age at Death: 88
[RFSS Apr 2011]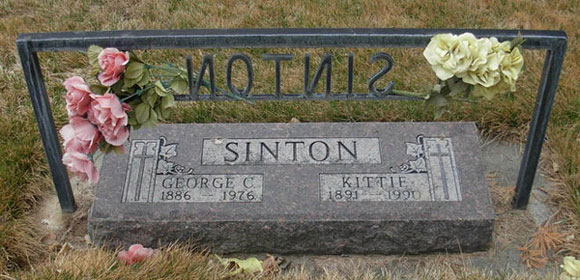 Headstone of George Chapman Sinton 1886 - 1976

Meadow View Cemetery, Manhattan, Gallatin County, Montana


The photograph comes from the Find A Grave website courtesy of A Marine's Daughter
The location is Meadow View Cemetery, Manhattan, Gallatin County, Montana, United States of America.
Link to the Find A Grave site for George C. Sinton
[RFSS May 2008]

The death date was kindly supplied by Rebecca Warner from the Montana Death Index records.
[RFSS Jun 2008]